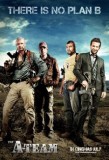 A top military team is accused of a crime they didn't commit. Now they are on the run trying to clear their name.
If you liked the A-Team in the 80's then you should like this one too.
Even if you didn't see the old series this is worth seeing.
The A-Team has plenty of great action scenes, great lines, and is very satisfying without getting gory.
It's the 80's show on steroids.
A must see for action fans.
Year: 2010