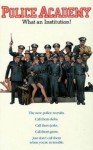 A series of movies about the exploits of new recruits at a police academy.
Not to be taken seriously at all. Plenty of slapstick humour, funny pranks, and lots of laughs. These movies are supposed to be silly, and certainly are.
The first movie in the series is the best, with each following one not quite as good as the previous movie.
Early ones are classic 80's movies.
They are not family viewing (adult themes), but later ones have less adult stuff.
For a simple silly laugh with nothing too serious, these are a good choice.
Police Academy: 1984
Police Academy 2: Their First Assignment: 1985
Police Academy 3: Back in Training: 1986
Police Academy 4: Citizens on Patrol: 1987
Police Academy 5: Assignment: Miami Beach: 1988
Police Academy 6: City Under Siege: 1989
Police Academy 7: Mission to Moscow: 1994