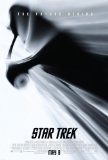 A space adventure about the new crew of a starship and their quest to save a planet from destruction.
This movie is set before all the other Star Trek movies and so can be enjoyed without having seen any of the others.
Great visuals, lots of moments for fans to pick up on, and plenty of adventure.
Year: 2009