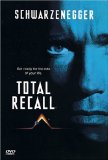 In a future where people can take a holiday just by having the memory of one implanted in their mind, a man must find out if his memories are real, and if so discover what is so important on Mars.
Lots of Arnie action. The story is exciting and entertaining, and even has a bit of thinking allowed.
Quite violent and not suitable for children.
Year: 1990