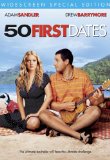 Just as good as "The Wedding Singer", Adam Sandler and Drew Barrymore make a great match in this romantic comedy.
Great laugh out loud scenes, great scenery in Hawaii, fun premise (every date is a first date for a girl with amnesia).
If you want a good romantic comedy, this is it.
Year: 2004