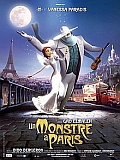 A monster appears in 1910 Paris and a movie projectionist and a wacky inventor set out to find it.
Entertaining for children and adults. Beautiful music, and a fun atmosphere make this a great light-hearted adventure in Paris.
A wonderful animated movie that is a little bit different to the normal fare.
Parents can watch this with the children and still be entertained themselves
Year: 2011