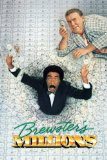 A man inherits 300 million dollars, but to get it, he must prove he can spend 30 million of it in 30 days.
This proves more difficult than it sounds.
A fun simple comedy from the 1980's.
Suitable for family veiwing although there is some swearing.  Teens and adults will appreciate it more than young children.
The 1945 version is even better as a screwball comedy that is very witty and full of great one liners, but is not easy to find.
Year: 1988