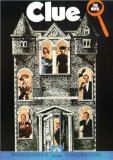 Based on the popular board game. This is a comedy murder mystery movie. Which person at the dinner party did the murder?
A slightly weird comedy, part slapstick, part farce, part mystery.
Not in the style that children would enjoy, but an entertaining movie for adults. Watch for the three alternative endings that make it a bit different.
Year: 1985