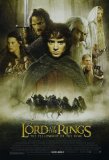 The first of a three part story shows the start of the journey a young hobbit in his quest to destroy an ancient ring.
The ultimate fantasy movies.
A story of evil trying to overcome good and the journey of a group trying to stop it.
These must be seen in sequence and although each is great on its own are a masterpiece in total. These are a must see.
Each is long, but well worth it. With fantastic scenery, amazing special effects, and one of the greatest stories ever written made into a movie.
Watch the extended versions if you can, they are even better than the theatrical versions.
These are the type of movies that are great on a big screen and on Blue-ray will be even better.
Year: 2001