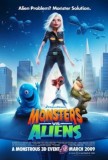 A woman is turned into giant by a meteorite and joins a group of monsters to fight against an alien invasion.
Lots and lots of laughs, exciting adventure, and fantastic animation.
Children will love it as there is plenty of visual humour, and adults will get a great laugh too.
Year: 2009
[youtube]http://www.youtube.com/watch?v=LIMYi8pJZgc[/youtube]