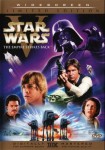 The empire takes the fight to the rebellion. This follows on from "A New Hope".
Episode 5 in the story. This is a bit more serious, but is still full of great adventure and fun situations.
Again suitable for the whole family.
The end is a set up for the next movie. It is best to watch all three (Star Wars, Empire Strikes Back, and Return of the Jedi) one after the other.
Year: 1980