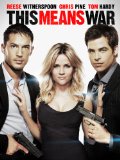 Two CIA operatives who are best friends fall for the same girl, and battle each other for her attention.
The critics didn't seem to like it, and it does have some sexual references that put it outside of family viewing.
But on the whole, it is a light romantic comedy, a bit silly, but still entertaining.
Is it great? No. But it is fun.
Year: 2012
http://youtu.be/io3Rf21ZxIM